i'm not one for most festivities because they can feel so contrived. i steer clear from mobby-feeling consumer-driven holidays where the point seems long forgotten but has us invested nonetheless, buying all the things like we think we should, storming stores, scrambling to get ready for THE BIG DAY, and after which it's over and checked off the list of things to get through like laundry. for me, thanksgiving is a different creature. anyone anywhere can have thanksgiving. that's something worth celebrating. and the harvest. what grows from the ground around. the sharing, togetherness, mindfulness, and appreciation. the bounty of it all. thanksgiving is so my speed.
i've been gathering so many ideas for my family's thanksgiving celebration. in my family and likely many others too, thanksgiving includes a long process of prepping vegetables, cooking, eating, and drinking, spanning the whole day and some of the day before; it's much more than the big meal on thursday night. i've assembled a list here of my favorite internet finds with all of that time in mind. most of the recipes i've gathered are free of gluten, and almost all are vegetarian and many vegan, but i chose not to clutter my list with abbreviated food codes; i didn't want it to be about the rules and restrictions. i hope you'll find as much inspiration in these links as i have.
[follow my
holiday eats
board on
pinterest
 for the beautiful food + drink recipes i'm coming across since publishing this list!]
getting ready
simple linen apron DIY if you don't want to be like me with a closet of oil-stained shirts
thanksgiving table tips for decorating on a budget from beth kirby [pictured]
breakfast
i love the feeling of enjoying something festive and special on thanksgiving morning to start the day of prep + cooking.
baked:
pear + walnut buckle with streusel topping and whiskey whip [pictured] roasted butternut squash with feta + honey
persimmon scones (wheat)
simple baked oatmeal with chocolate ginger shortbread cookie lids (contains wheat; GF sub idea here) [pictured]
not:
spiced apple smoothie
latke waffles + crispy egg
teff + corn grits with walnut pesto – seasonal substition: make pesto with mustard greens in place of basil + top with a poached egg like so
lunch + the before bites
my family usually starves in the hours between breakfast and whenever-the-turkey-is-done. it's my mission to see that it doesn't happen this time with the help of a vibrant salad:
warm cauliflower salad with black rice + grapes
simple quinoa and kale with pine nuts
celery root + apple salad
caramelized butternut squash salad with quinoa salad and roasted grapes
shredded brussels sprouts + fall vegetable salad with garlicky orange tahini dressing
roasted onion, squash, and fig salad with maple-mustard balsamic dressing
herbed quinoa and pomegranate salad
apple + fennel salad with pistachios and apricot
quinoa salad with hazelnuts, apple, and dried cranberries [pictured]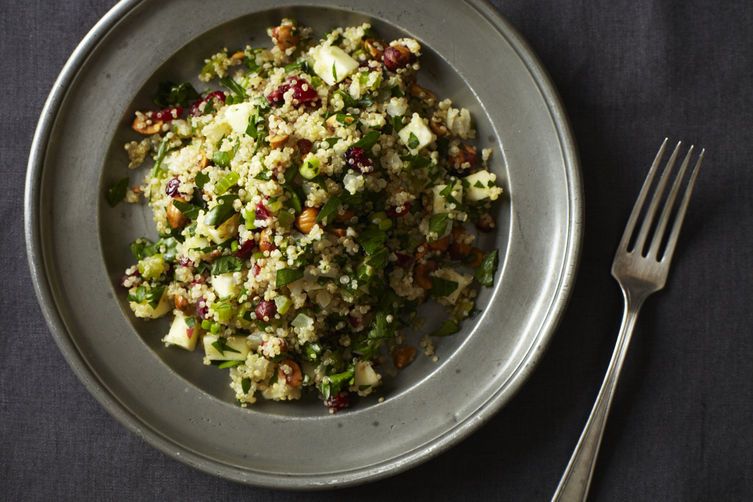 to drink
all day long.
apple sangria with pomegranates and figs
apple peel bourbon
plum ginger whiskey sour
roasted apple tisane
beet balsamic shrub
spiced pepitas + maple horchata with apple brandy
pomegranate cranberry rum punch with candied rosemary [pictured; end of post] butterbeer
hot pumpkin buttered rum
vanilla bean hot buttered rum
spiced apple rum punch [pictured] spiced apple margaritas [pictured]
the main event
if you do turkey, this smoked turkey breast. if you don't, elizabeth's words are hella worth a read anyway.
plant-powered:
roasted stuffed pumpkin : what a beautiful communal centerpiece. carve. feast. i love it so much. [pictured] acorn squash stuffed with cornbread stuffing
seventh-day adventist-style vegan loaf with this vegan loaf generator! you can choose your own adventure! (my choice: lentil + walnut + mushroom loaf with thyme and sage)
vegetables + sides
my family always cooks a trio of orange mashes in addition to the standard white potato mash: butternut squash, rutabagas*, and sweet potatoes, although the sweet potatoes are adulterated with all kinds of sweetness in a marshmallow-crested casserole, so maybe they're in a different camp from their other orange brethren who remain fairly simple and never require a recipe; only eyeballed + taste-as-you-go dashes of butter, milk, salt and pepper. at any rate, all of those are staples for us, but usually we try a new dish or two in addition. these look perfect:
twice baked sweet potatoes with pumpkin seed dukkah [pictured] green bean casserole with crispy onion topping
grain-free green bean casserole
delicata squash + brussels sprouts salad with hazelnuts and cider vinaigrette
roasted balsamic ginger cauliflower [pictured] brussels sprouts with mustard and cranberries
mustard-roasted cauliflower with pistachios and olives
kale + wild rice casserole
autumn greens tend to go underrepresented at our thanksgiving table and i'd love to change that:
mustard green harissa to drizzle + dip
wilted kale with sesame
coconut creamed spinach with shiitake mushrooms + fried shallots which i'd love to make with rutabaga or daikon greens
mashed potatoes
decadent umami style with miso butter
light and vibrant with cauliflower
with chickpea, cauliflower + miso mushroom gravy
simple and vegan with mushroom gravy
sauces
bourbon vanilla cranberry sauce
honey-sweetened orange cranberry sauce
breads + stuffing
cornbread millet muffins
rosemary + roasted pumpkin foccacia
poblano cornbread stuffing
mushroom stuffing made with gluten-free bread
gluten-free bread stuffing with brussels sprouts, broccoli, leeks, kale, and sage
from scratch bread stuffing muffins
seeded millet bread [pictured]
with wheat:
stuffing rolls
celery root stuffing with roasted meyer lemon
soft pretzel + bacon stuffing with mustard + beer
lemongrass stuffing
desserts
raw / hippie-ish pies:
salted spiced pumpkin mini pies with oat hazelnut crust [pictured] cashew pumpkin pie with praline and coconut-pecan crust
raw vegan pecan pie
raw caramel apple pie bars
kinda raw marbled pumpkin tart
more tradional pies:
ginger apple crumble pie
kabocha pumpkin buttermilk pie with crème fraîche swirl
kabocha pie with black pepper + ginger (wheat)
fruit:
wine-poached pears [pictured] cranberry + spice poached apples
resources:
gluten-free dairy-free pie crust
gluten-free buttery pie crust
leftovers
almost as important (and possibly way more fun) than the big meal. there's no pressure to make anything pretty and there's so much room to get creative:
veggie meatloaf burger with mashed potatoes + gravy
waffled stuffing + chia cranberry sauce
thanksgiving leftovers strata
turkey vatapa
another idea: stir in that crazy marshmallow sweet potato casserole business to cooked oats the next morning for quick fancy porridge.
and to end, a beautiful picture of the festive cocktail shelly made. check out her lovely words on familiy drinking traditions. they make me happy. i hope to share in lots of cheerful imbibing with my family over the holidays. do you have any particular thanksgiving traditions, food or drink or otherwise? what are you looking forward to? please do share.
love.
[and here's a bit from my 
holiday eats
 board on pinterest. join me!] [alpine-phototile-for-pinterest src="board" uid="thebriny" board="holiday-eats" imgl="pinterest" dl="1″ dlstyle="text" dltext="follow me on pinterest!" style="cascade" col="4″ size="192″ num="12″ max="100″ nocredit="1″]